In the recent months, we hear more and more of new notions like capsule wardrobe, minimalism, less is more, "do I really need that", zerowaste, upcycle, recycle, #stayathome, Corona-19 etc.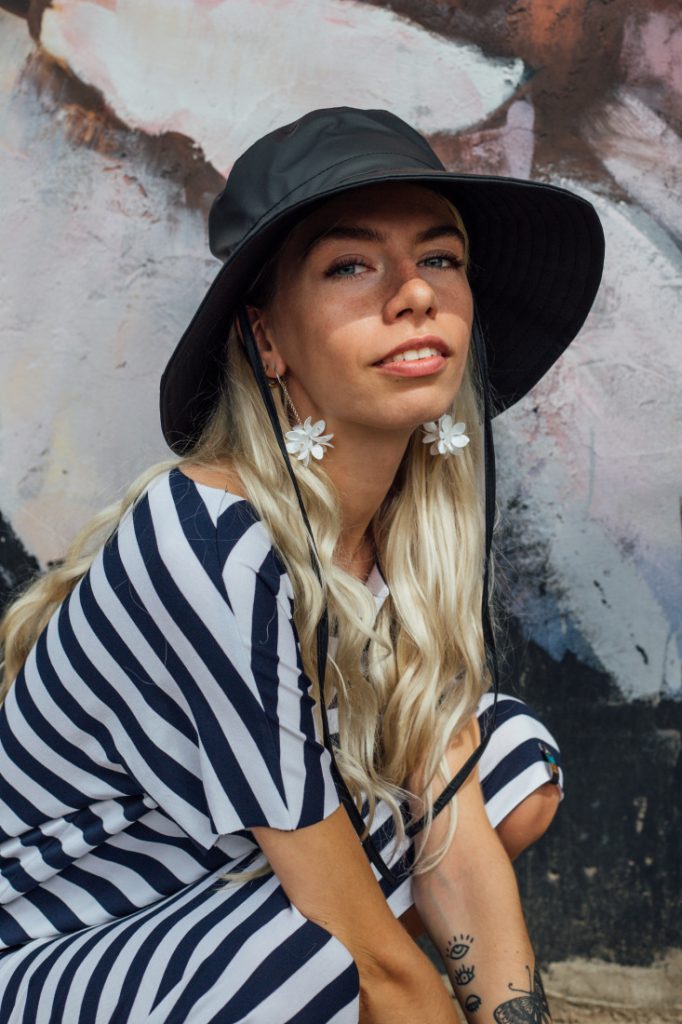 Indeed, the year of 2020 has decided to implement some global changes in our lives at its very beginning, notably impacting the vision, development and concept of both small and large companies and entrepreneurs. It becomes more and more trendy to buy less but with more quality, to choose products in a packaging that is environmentally friendly or has no packaging at all, as well as to give a new meaning or function to the old things, to recycle them, to give them a new life.
For a long while already, M50 has been proudly offering upcycle and recycle products of various brands. Back in 2015, those were shirt-skirts and shirt-dresses by RECYCLED.LV and recycled pants by ULMANN, now we have ZĪLE that uses men's costume pants to create new and unique vests and office skirts for the ladies. There is also BUTTERMAN, one of M50's favorite brands.
In their blog, Butterman perfectly explains what fast fashion is, why it is as unhealthy as fast food and how one can dress and live slower. The Butterman team of designers are #upcycle champs as for many of their products they pick materials that have come from the left-overs of the major fashion houses. This means – high-quality materials in completely unique patterns and of excellent quality.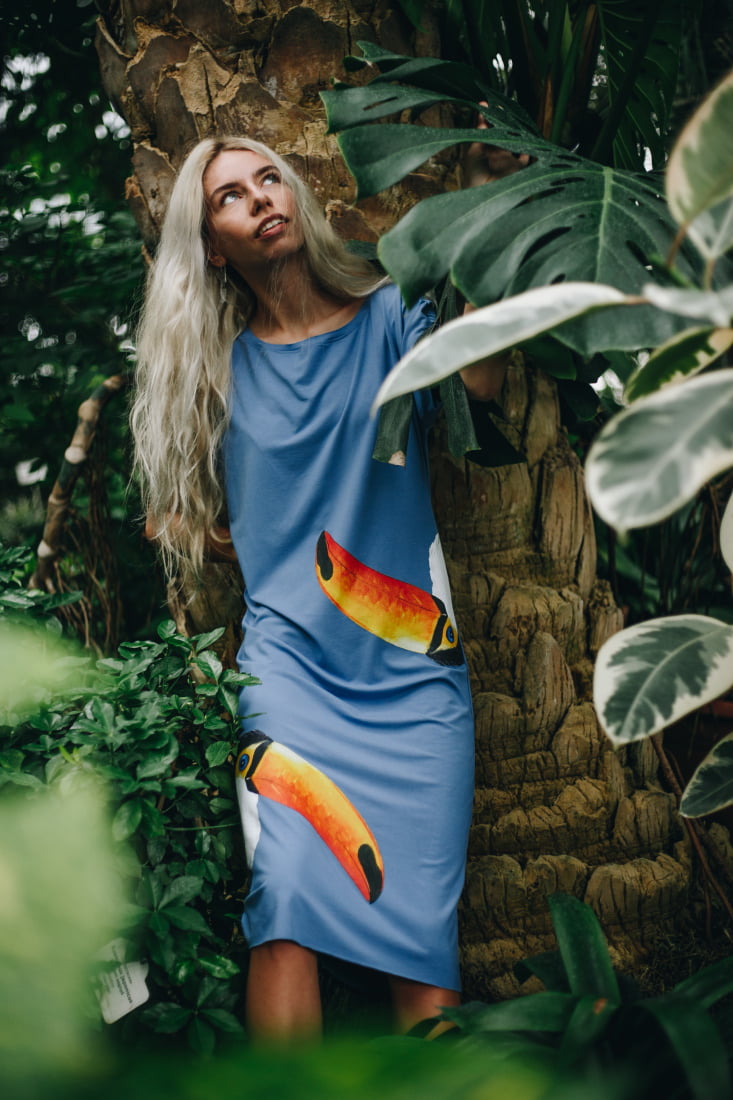 In the offering of M50, you will find dresses of various brands and for various tastes.
For a few years now, with the support of M50, tunics of all colors, striped ones and classy black ones too are made. The dress of the favorite pattern is irreplaceable in the summertime – it is comfy, light and absolutely genius in its simplicity. As the autumn approaches, one can put on a thin turtle-neck, pantyhose, platform shoes, long boots or rubber boots underneath the tunic and continue their way along the puddles! Last year, in collaboration with Ieva Jurjāne, we created the collection of Bird tunics, inspired by the book "Čarlīzes deguns". A natural material, pleasant to the touch and easy to care – that is an important feature of any wardrobe.
In autumn and winter collections one will find products of thick wool knitted or crocheted textiles. Fitting the fashion of 2020, most of the dresses can be transformed – one can wear pants or a classy white shirt underneath.
Dita dress that contains various materials, is of an elegant length, it has side-pockets and its pattern will fit almost any type of body. The dress contains 95% wool, the textile is smooth on the outside, but piled on the inside which makes this dress particularly comfy to wear and nice to the touch.
The Amber dress was made in 2020 in collaboration with artist Gunta Riekstiņa whose main calling, painting, has always been complemented by the love towards fashion. The dress is made of tencel – a material that has been artificially made from natural fiber. In M50, we call it the cousin of the wool. Tencel is a pleasant and enduring material that has gained its popularity in 2020 due to its excellent features of care and wear.
The tencel Amber dress is currently available in two colors – emerald green and khaki green. Its special element, amber buttons, emphasize the wonderful tones, plus, the side-pockets will make the lady feel comfortable. A-form pattern with a V-shaped neckline makes the body stand out and makes the waist look thinner. One can wear the dress with or without a belt.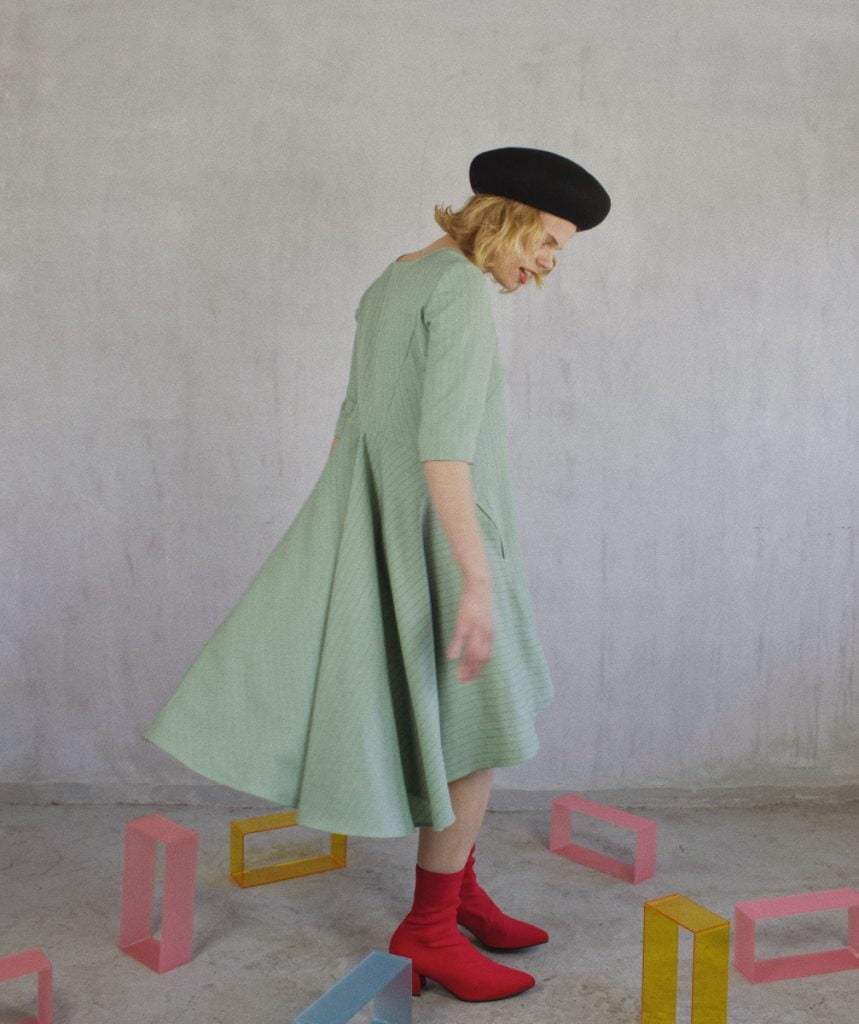 In the M50 Dresses section, one will currently find dresses by brands M50, Reinis Ratnieks and Butterman. In addition to the brands that can be found in our online store, M50 store in Miera Street 17 offers products by creators like Yuta, Plaude, GaujaGauja, Sarma, DayOff, HEEL.